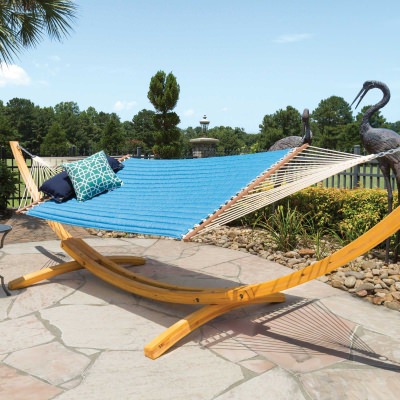 Hammocks are the ultimate image of relaxation, but choosing the right hammock for you can often be overwhelming. With a large array of different types and styles of hammocks available, we know that finding the perfect one to fit your needs can be difficult and time consuming. Therefore, we have compiled this buying guide to help you find the perfect hammock to fit your needs and to be the perfect addition to your outdoor space. Let this guide lead you to your home paradise.
---
How will your hammock be used?
Relaxing in a permanent or semipermanent location
Regular sleeping in a permanent or semipermanent location
Relaxing or sleeping in a temporary location (ie: camping)
Where will your hammock be used?
Outdoors with full exposure to sun and elements
Outdoors with partial to full shade (ie: under trees)
In a semi-enclosed environment (ie: covered porch, gazebo, sunroom)
Indoors
How much exposure to the elements will your hammock have?
It'll hang outside 24/7/365 (OK, but be warned: snow/ice can damage even the toughest hammocks)
It'll hang outside during the warm season (several months with exposure to sun & rain)
It'll hang outside only when I'm laying in it
It will never be exposed to direct sun, rain or snow
---
---
Determining what hammock fits best for your space refer to the following chart. It's important to measure your entire space or your hammock from ring to ring. Those measurements will determine what hammock will work best or what stand will work with your hammock.
Height of Tree Hooks (in inches)

Distance Between Trees or Posts
Hammock Length*
10'
11'
12'
13'
14'
15'
9'
48
48
48
48
48
48
10'
54
48
48
48
48
48
11'
66
54
48
48
48
48
12'
84
72
60
48
48
48
13'
96
84
72
60
48
48
14'
108
96
84
72
60
48

*Distance in feet measured from ring to ring when laid flat on the floor
**Heights in the shaded areas are not recommended because the
hammock may have too pronounced of an arch, possibly making it uncomfortable.

Important Note: It is normal for a new hammock to be up to 2 feet shorter. A new hammock is in an "unstretched state." With the first use, the hammock will stretch from 1 to 2 feet . You may need to use a small extension of chain or rope during the initial hanging. But stretching will occur and the hammock will gain its proper length.
Spreader bars are placed at the each end of the hammock to enable the hammock body to stretch out, as well as allow for the occupancy of more than one person. Spreader bars keep the hammock from "cocooning" you and hold the hammock open even when it is unoccupied. Buying a hammock with or without a spreader bar is a matter of personal preference. Hammocks without spreader bars give a "cocooning" effect. If you are the kind of person who likes to spread out, then you would probably prefer a hammock with a spreader bar.
---
Rope Hammocks
Rope hammocks are a relaxation classic. Rope hammocks allow the breeze to flow through the hammock, keeping you relaxed, cool, and comfortable.
Rope hammocks can be made with various materials, and choosing which one is a matter of personal preference and intended use. We offer four rope materials: cotton, softspun polyester, and Duracord.
Cotton rope is the softest type of rope, and it can conform to your body shape while laying in the hammock. However, cotton rope overtime is not mold or mildew resistant which eventually results in ropes dry-rotting throughout the rope. This occurs because cotton is a natural fiber.
Softspun polyester rope is a bright white rope that is less likely to mold or mildew throughout the surface in a moist climate. Polyester is comparable to a sponge when it comes in contact with water, making it's dry time the longest of materials.
DuraCord material is used to manufacture both rope and quilted hammocks because it's our premium rope and is designed for heavy outdoor use. This amazing material is highly sought after for outdoor use and comfort. It's number one attribute: It doesn't absorb water, so you don't need to worry about mold, mildew, or dry-rotting. It's dry time is next to nothing because the water is virtually on the surface of the material. DuraCord rope is offered in a variety of colors, in which UV inhibitors keep the colors looking bright and stunning longer than regular outdoor fabrics.
---
Fabric Hammocks
Fabric hammocks are offered in many different styles for extra comfort and support. These hammocks feature layers of either Sunbrella or DuraCord fabric, depending on the hammock model, sandwiching a plush center of recycled fiberfill batting for a wonderfully cushioned feel. This type of hammock offers ultimate comfort for relaxation, and the fabrics used are durable and designed for use outdoors. Spreader bars keep the quilted hammocks open, even when unoccupied.
Depending on your preference, you may choose a traditional, tufted, or soft weave quilted hammock. More details on the benefits of each are listed below.
Quilted hammocks feature two layers of either Sunbrella or Duracord fabric, sandwiching a plush center of fiberfill batting, all lock stitched together for ultimate comfort. These fabrics are resistant to staining, rot, mold, and mildew, and feels just as soft as cotton.
Pillow-Top hammocks feature a bed of pillowy perfection. Two layers of all-weather Sunbrella or DuraCord fabric sandwich a thick center of polyester hollow fill fiber made from recycled plastic bottles. The fabric is sewn in equal intervals designed to spread and control your comfort evenly.
Tufted hammocks feature a bed of pillowy perfection! Two layers of all-weather Sunbrella or DuraCord fabric sandwich a thick center of polyester hollow fill fiber made from recycled plastic bottles. Contours are created by grommets and include an attachable tufted head-pillow made of matching fabric.
Soft Weave hammocks feature hand-woven ribbons of cottony-soft, all-weather fabric with a one-inch fill of polyester fiberfill batting. These hammocks are often referred to as "hybrid hammocks" because you experience the best of both worlds. The ribbons provide a breezy feel with the comfort of a quilted hammock. Soft weave hammocks provide an uncanny level of comfort for every seasons to come.
---
South American Hammocks
South American Hammocks have a more exotic look than other hammocks and are hand-made of tightly woven threads, and many offer the "cocooning" effect. These hammocks are designed to hang anywhere, but more specifically in a small space at a high anchor point. Although comfortable and stylish, these hammocks are more fragile than others and must be brought inside when not in use.
We offer two types of South American hammocks: Mayan and Brazilian. Both feature stunning designs and color that stem from the cultures in which they originate. More details are offered below.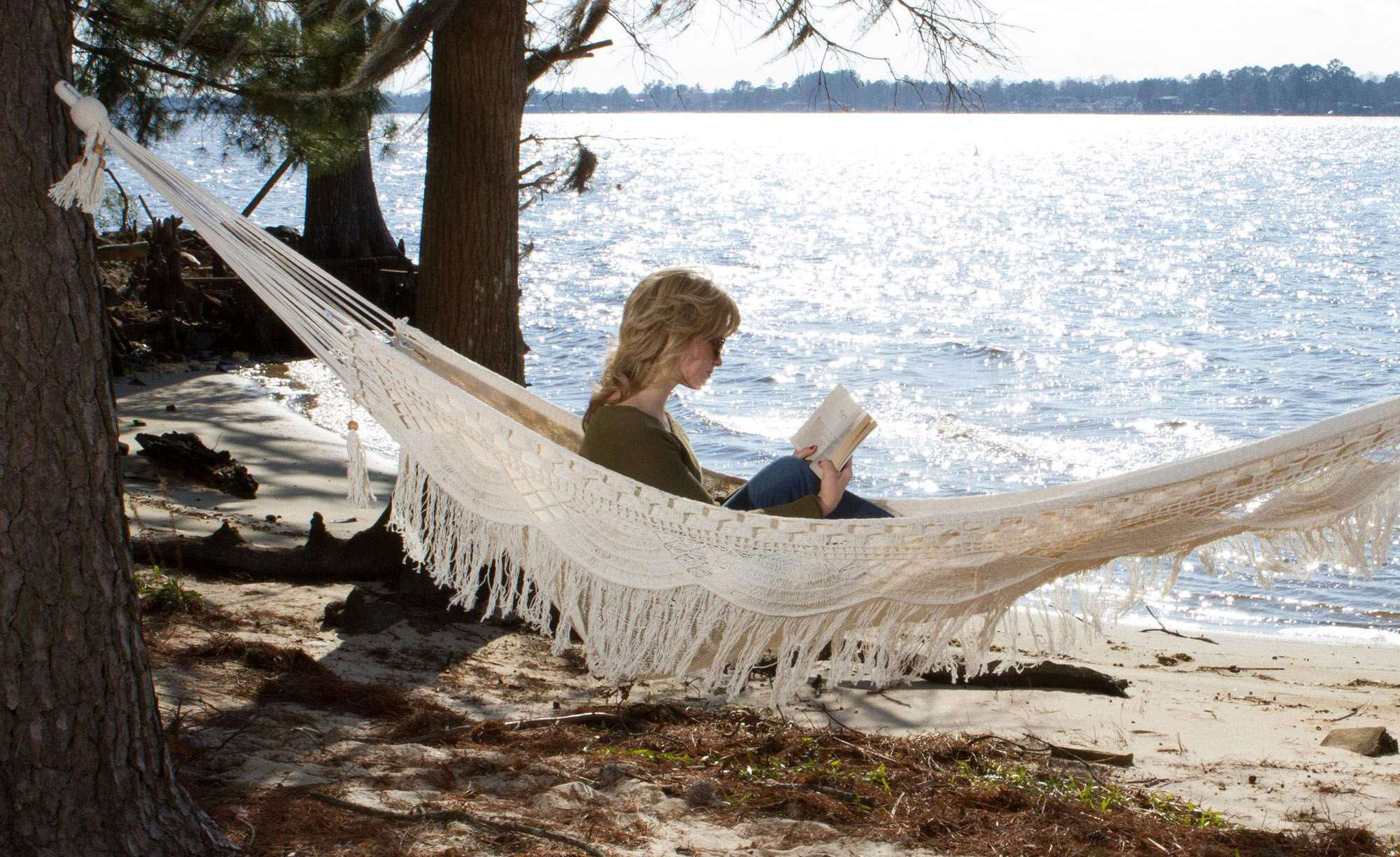 Mayan hammocks are woven with pure cotton strings producing a mesh/macro weave body. The Mayan hammocks we offer feature durable colors and are handcrafted in Nicaragua.
Brazilian hammocks are made from cotton and are usually more durable than string varieties. Brazilian hammocks have full fabric bodies with/without spreader bars and offer the same comfort as traditional hammocks.
---
Camping Hammocks
Camping Hammocks are portable, lightweight hammocks that can easily be hung from a tree, beam, or wall. They are perfect for use when hiking or camping, and usually accommodate one person comfortably. These hammocks offer the "cocooning" effect and keep you relaxed when you're on the move.
---