Have questions about location? placement? type? size? color? pattern? shape? material? brand?
We know the answers and we have made them available for you here. Have a question we did not answer? Call our rug experts at (252) 295-0404 or use the contact us link above.
---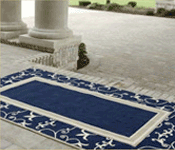 Choose a Rug Brand
Choosing a rug brand to go with can be a difficult task. We have compiled a complete list of all our brands along with key facts and descriptions about each one to make it easy for you to decide. Click the link below to view our Outdoor Rug Brand Guide and to learn about the differences between all our rug brands.
---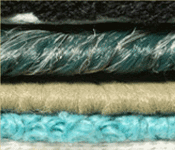 Decide on an Outdoor Rug Material
For outdoor rugs you want to choose a material that will hold up against sun exposure, resist mold and mildew as well as be durable for long-lasting use. We have provided you with a complete guide to outdoor rug materials below.
---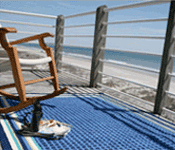 Choose a Great Location
The first step in selecting an outdoor rug is to determine where you will place it. Outdoor rugs are a perfect accessory for many locations outside of the home. Patios, porches, decks, breezeways, gazebos are but a few areas in which an outdoor rug could become a defining decorating element. Also, don't rule out indoor uses of an outdoor rug. Its stain resistant properties and durable design make it an excellent choice for a high traffic area such as a family room, or a more accident prone location such as in a kitchen or breakfast nook.
---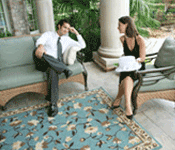 Determine Correct Placement
Once your location is determined, look around your space and see how the rug will accommodate the seating, dining or outdoor living area. A good tip is to pay attention to architectural elements, like an outdoor fireplace or fountain to avoid any structural problems with placement or safety issues. If the elements play a role in the creation of a focal point, the patterning, which is discussed later, will need greater consideration. If you want to bring attention to a particular outdoor element, your rug will need to complement and not distract. Distraction can be caused not only by pattern and color but also size.
---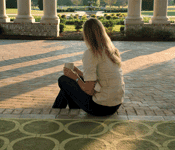 Select an Appropriate Size
To determine the perfect size needed for your desired placement, simply measure the area you wish to cover. If you are placing the rug in a gazebo or on a patio, it is recommended that the outdoor rug be approximately three inches smaller in each direction than the floor space of the area. This creates a bordered effect as well as makes it easier to clean under and around the outdoor rug.
Rugs are now a sought-after accessory for defining settings within our open spaces. A rug can separate a play area from a conversation area in much the same way as it does in indoor decorating. When using the rug to cover just a portion of your outdoor space, begin by determining what furnishings will be placed within the area and how the rug will be placed amongst the grouping. There are two schools of thought with regard to placement of furnishing and rugs. One thought is to have all furniture on the rug, while others prefer the rug to fall only under the front legs of furniture. The overall look you are seeking will determine which manner you prefer. If you are placing the rug completely under a table, chair or ensemble of stools and table, a comfortable walking area around the furniture needs to be incorporated into the rug size.
---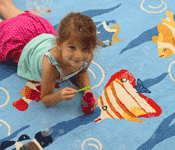 Coordinate the Perfect Color
With the explosion in color palettes available for the outdoor rug consumer, color selection and coordination can be fun but also provide design challenges. Color is a major factor along with style in bringing your outdoor setting together. As we have not discussed construction, this would be a good point to mention that the yarns that make up a quality outdoor rug need to be of the highest UV resistance value. This will insure that the colors that you choose will stay vibrant and colorfast for years to come. Solution-dyed DuraCord® yarns provide this colorfast quality as well as provide numerous other outdoor performance benefits such as stain resistance, water repellency, and abrasion resistance.
If you want the outdoor rug to be the main focal point a rug with bold coloration or design would provide this. The style, scale and placement of the outdoor furnishings would then need to be simpler and grouped in an off-the-rug arrangement. The more of the rug that is visible, the greater the statement it will make.
If your are using the rug to provide the benefits of a rug without commanding all the attention in the space, the color and pattern you choose should lean toward more subdued. To blend in with a decorating theme, you may want the coloration of the rug to match colors found within the space including the fabric, finishes, or other accessories.
When creating your perfect outdoor setting keep in mind that lighter colors in the outdoor rug will make the space seem more spacious, while darker hues will make it seem cozier.
---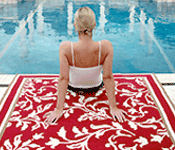 Identify a Pleasing Pattern
Patterns within outdoor rugs are as varied today as the colorations. When choosing a rug, think about the other patterns that will exist within the space. If the fabric found on the furnishings includes defined patterns or motifs, the pattern or motif of the rug should complement and not compete. Bold rug designs work best with solid furnishings while border designs with simple weave centers provide for the greater use of decorative fabrics.
---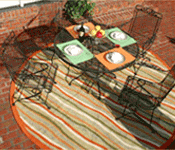 Pick a Conforming Shape
With the variety in rug colorations and patterns, another option is also available and that is shape. Outdoor rugs, like indoor rugs, are not limited to rectangles. Although the most popular shape, circular and octagonal shaped rugs are available and can add a unique flair to an outdoor room. Your personal style comes into play once again in determining which shape is best for your outdoor setting.
---