What Outdoor Curtain Length Do I Need?
One of our most asked questions is what length of curtain do I need? Does the top type affect what length I need? What is the actual hanging height of an outdoor curtain? Do I need a curtain that hangs just above the ground or should I let them pool or puddle on the ground. In this guide we will show you what steps to take when deciding which length is perfect for you.
---
The first step to finding the right length of curtain, is to understand what top type the curtain uses, as the hanging height of each is slightly different. We use three top types: grommet, tab and sleeve top.
---
Grommet Top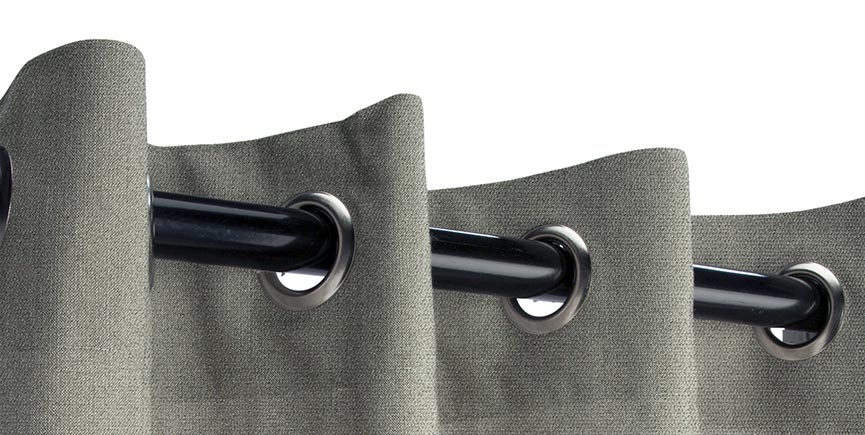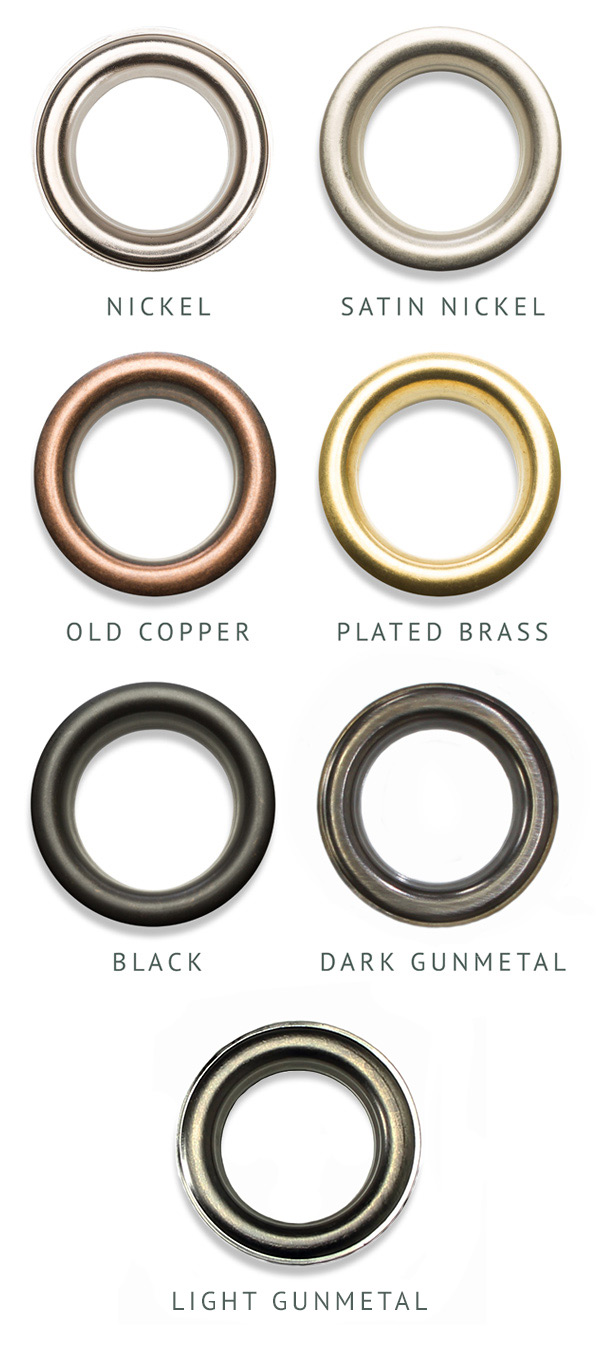 Our grommets come in 7 colors. Satin Nickel, Nickel, Old Copper, Plated Brass, Dark Gunmetal, Light Gunmetal, and Black. You may choose any for your outdoor curtains.
Tab Top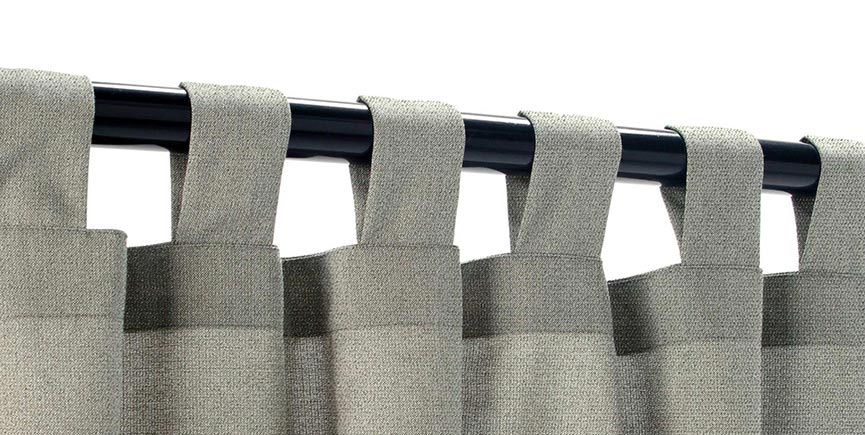 Sleeve Top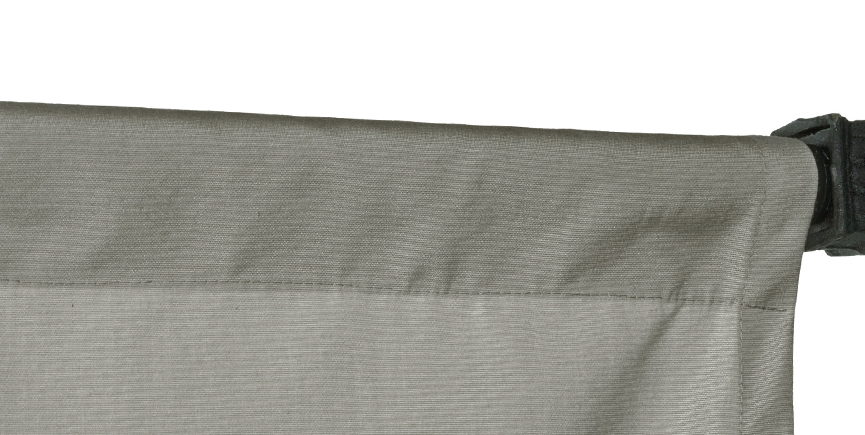 ---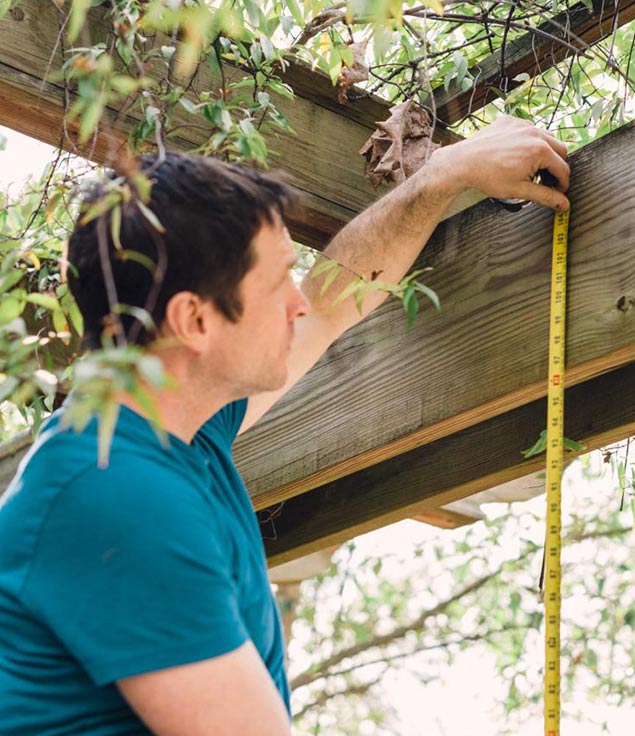 Curtains are most often measured from the very top of the curtain to the bottom. If you are interested in a curtain with grommet tops, there will usually be an inch and half of fabric above the top of the grommet. Therefore, an 84 inch length curtain with grommet tops will have an actual hanging height of around 82.5 inches. When choosing a preset size or a custom size it is important to subtract 1.5 inches from the length to obtain the actual hanging height.
As for tab and sleeve tops, the hanging height is true to the measurement listed, as the curtain is measured from the top of the tab or sleeve, to the bottom. So an 84 inch length curtain will have a hanging height of 84 inches from top to bottom.
---
After choosing your top type, the next step is how to choose what to do with the bottom of the curtain.
---
Stabilizing Grommets
Having an outdoor curtain hang just above the ground is the most popular choice, as there is less maintenance, but it tends to be more susceptible to wind without weights or stabilizing grommets. We recommend stabilizing grommets, as weights can potentially be dangerous on extremely windy days.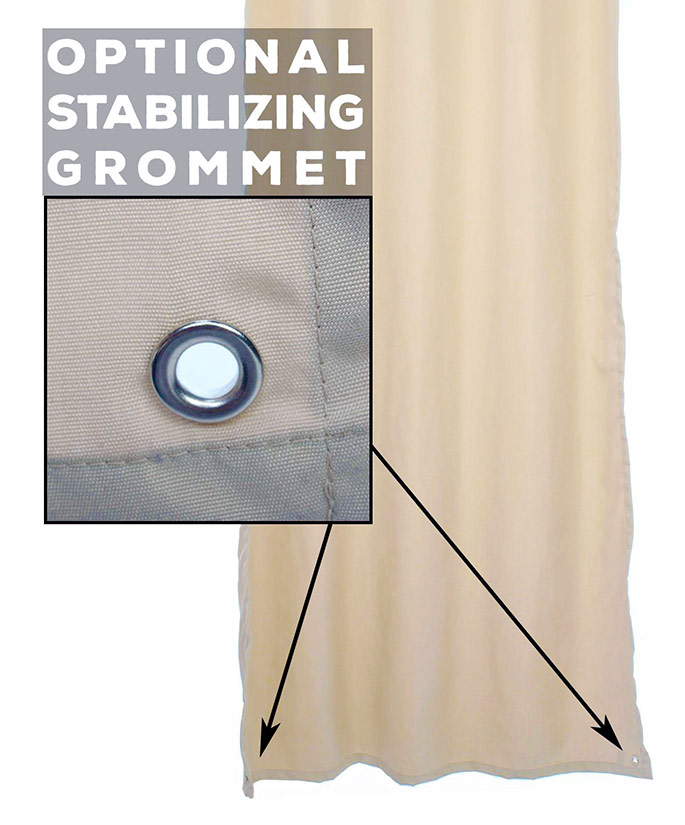 ---
Pooling Your Curtains
If you choose to pool your outdoor curtains, choosing a length is all dependant on how much of that curtain you would like to rest on the ground. We recommend between 2 and 8 inches of extra fabric when pooling. Because these curtains are pooling (puddling) on the ground, they will be a little more resistant to wind.
Due to the nature of having fabric resting on the ground, they will be more susceptible to stains and prolonged periods of moisture. We carry Sunbrella® and Tempotest® Extra Wide fabrics, both are outdoor safe and easy to maintain. Our Care Section shows a step by step guide on how to properly care for our outdoor curtains. Products like our 303 Water Repellent and 303 Fabric Cleaner help prevent moisture build up and clean any stains that you might incur.
---