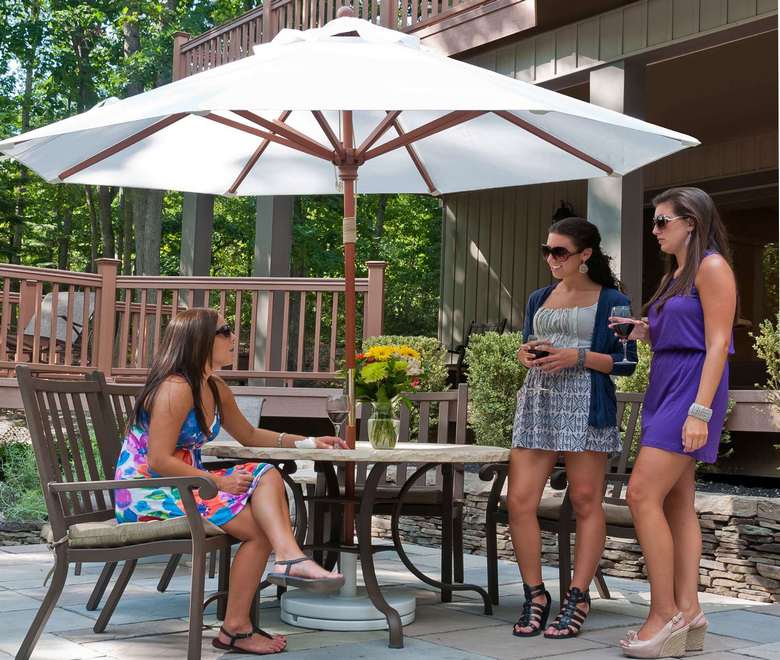 A patio umbrella is the ultimate style meets function patio piece. The icing on the cake that completes your patio, but choosing right umbrella can be a difficult decision to make given all the choices presented. The following information listed below will help take the uncertainty out of your buying experience, while guiding you to the perfect patio umbrella to meet your requirements.
Shop Patio Umbrellas >
---
What size umbrella do I need?
That depends on how much shade you are looking for.  Patio Umbrellas are measured by their canopy diameter. Generally you would want your umbrella's canopy to be at least 3ft larger than the area to be shaded. Consider this table below. (Diameter diagram showing how umbrellas are measured across)
| | |
| --- | --- |
| What needs Coverage? | Umbrella Size |
| 30 Inch or Smaller Café or Bistro Table and 2 Chairs | 5-6Ft |
| 36 Inch or Smaller Café or Bistro Table and 2 Chairs | 7Ft |
| 48 Inch Round or Square Dining Table and 4 Chairs | 9-10ft |
| 60 Inch  Round or Square Dining Table and 6 Chairs or larger | 11-12Ft |
It's best to have an idea of where you're planning on positioning your patio umbrella on your patio before you purchase it because you want to take into consideration any obstructions such as a tight balcony, tree limbs or anything that would inhibit the umbrella from opening to its full diameter. For clearance in tight places you want to allow for 6 inches of space on all sides between the umbrella canopy and any wall or obstruction. For example if you have an 8x8 balcony than you would purchase a 7ft umbrella, a 10x10 balcony you would purchase a 9ft umbrella.
---
Freestanding, Offset or Wall Mounted
Freestanding umbrellas are your traditional patio umbrellas design. A freestanding umbrella consists of a canopy with a pole going through the middle, secured with a base at the bottom. The canopy can open by manually opening the shade and pulling the pin across by hand, or a crank-pulley system. Because of their simple design they are also the longest lasting. Freestanding umbrella tend to be the best value shade and the commercial go to.
Offset umbrella or cantilever umbrella supports a hanging canopy from an above support, with the umbrella pole to the side meaning there is no pole in the middle of the shade. This design is what makes the offset umbrella so unique, popular and versatile. Sitting under an offset umbrella can have a similar cognitive effect as sitting under an awning or covered porch because of the lack of center pole. It would be ideal for shading a table without an umbrella hole, a hot tub or shading a portion of your pool while you're in the water.  It can also easily rotate to provide shade as the sun moves throughout the day. If you live in area where high winds are frequent this might not be the best choice for you as their design makes then vulnerable to high winds. Be sure to secure your offset patio umbrella down with a heavy base or fasten it to the ground. Offset umbrellas require more weight to secure them down than freestanding; and they also tend to be more pricy than traditional umbrellas.
A wall mounted umbrella is an umbrella that is fastened to a wall using a mounting bracket. The canopy hangs similar to an offset umbrella but unlike an offset, the support comes from the wall not the ground. This system uses a small crank arm on the wall mount, and when cranked the umbrella canopy and arms contract in toward the wall. The advantage to this type of umbrella is that there is no base on the ground to get in the way. The canopy will rotate three different positions but it will not tilt.
When deciding between the three styles keep these questions in mind. What am I planning on shading? Do I live in a windy area?  Is the offset umbrellas' premium cost essential for the intended use? Am I planning on using this umbrella in a tight space? Answers to these questions will help you pick out the most suitable style for you.
---
What frame material do I need?
The frame is structure or skeleton of the umbrella and the 3 common materials that umbrellas are made from are wood, fiberglass and Aluminum. These materials each have their strong points and you must decide which material's characteristics best suite your needs. Wood has a more traditional look and is great looking in almost any setting especially if you own a wooden deck. Wood typically has manual pull opening systems and will not tilt. Fiberglass and Metal usually have the features not included on a wood frame such as a tilt and cranking canopy. They provide fresh modern look.
Wood
:
Poles typically use a manual or pulley lift system and a holding pin to secure
Canopy and pole usually does not tilt; however this simple design often increases product longevity
Frames and poles are commonly made of Asian hardwoods such as: Chinese White Oak, Ramin, Nyatoh
Good for commercial use because of its simple design
Stylish look with minimal maintenance   (Wood Pic)
Fiberglass:
Frame will not rust or rot and may last 4 to 5 times longer than aluminum or wood
Lighter frame that is sturdier than aluminum or wood
Poles can be offered in 2 pieces for quick storage
Commonly uses a crank system to open which allows the umbrella canopy to tilt
Aluminum
Poles are powder-coated, laminated or anodized to provide style and weather protection
Commonly uses a crank system, manual or pulley to open which allows the umbrella canopy to tilt
Vast selection of colors offered
Poles can be offered in 2 pieces for quick storage
For commercial and high-volume use avoid an umbrella with a crank or tilt
No matter how well the Umbrella is built it will not stand up to extreme winds. Be sure to close your umbrella down and cover it when inclement weather approaches or when you're not using it.
---
What Canopy material do I need?
After determining the proper size for your umbrella the next step would be to select a canopy fabric. When considering a fabric keep in mind your intended usage, storage and application. If you plan on using your umbrella year round, for commercial use, or just want to extend the life your umbrella it would be a good idea to go with a more durable fabric like Sunbrella. If you plan on storing your umbrella in the off season and when it's raining you should consider a thinner less expensive fabric such as spun polyester.
Sunbrella Fabric
100% Solution-dyed acrylic fabric that will withstand sun, wind, rain and mildew
Water repellant finish meaning it hinders the penetration of water
Tested to provide 98% protection from the sun's harmful UV rays
Acclaimed as the foremost provider of outdoor fabric
3 Year warranty against fading
Great for commercial or frequent use
Outdura
100% Solution-dyed acrylic fabric that repels water, and if kept clean will not mildew
Has the highest UPF rating of 50 meaning only 1/50th of the sun's UV light can penetrate
Water repellant finish meaning it hinders the penetration of water
Carries a 5 year warranty against sunlight damage, mildew and rot
Great for commercial or frequent use  
Olefin
Solution-dyed to retain fiber built to retain color and vibrancy.
Will resists stains, mildew, and abrasions however difficult to clean
2 year warranty against fading but has a lower UV tolerance than Acrylic
Will not retain moisture and will dries quickly
Pacifica - Polyester
4 year fade resistance warranty
4 year rot and mildew warranty
Solution dyed Polyester fabric
Spun Poly
Fast drying fabric
Strong and abrasion resistant however not as strong a Sunbrella
Feels like canvas cloth
Has a lower UV and weather ratings than Acrylic
---
How do I know if this umbrella will work thru my table?
If you plan on utilizing your umbrella through a free standing table make sure you take this into consideration also. Most umbrellas have 1 ½ inch diameter pole. To insure a proper fit into your table you should measure the diameter of the table hole. An umbrella thru a table is sturdier than a free standing umbrella thus needing less base weight. The table below is a minimum suggested base size chart. If you live in an area where strong winds are frequent occurrence you should consider going with the next size up.
---
What's a tilt umbrella?
A tilt umbrella is an umbrella that has a mechanism that allows the canopy to tilt on a pivot point to maximize shade potential when the sun is low. This is done through 3 different tilt mechanisms.
Push Button
The term "Push Button Tilt" is a little deceiving in the patio umbrella world because that is not exactly how they work. What is meant by the term "push button" is that when the button is pushed, the umbrella ribs will unlock giving you the ability to tilt the canopy to the desired position. A drawback of the push button design is that there are only 2 or 3 pivotal points offered.
Auto Tilt
Auto tilt is the term given for an umbrella with a crank tilt. Here's how it works system works. Once the umbrella canopy has been fully opened using the crank; continuing to crank will cause the canopy to tilt. The advantage of the auto tilt system is that the canopy will tilt 360 degrees.
Collar Tilt
A collar tilt is a rotating ring just above the crank and when it is rotated the canopy will begin to tilt. The collar tilt is similar to auto tilt except it uses a different cranking mechanism it also has the ability to rotate 360 degrees.
Please note that tilting umbrellas are not recommended for commercial use.
---
What are the components of the Patio Umbrella?
The Crank
The crank is a mechanism that is rotated to open the umbrella canopy. It uses a steel or synthetic cable along with a pulley to raise and lower the canopy. In select tilt patio umbrellas the crank also works as the mechanism to tilt the canopy on its axis.
The Pole
The pole is the support bean to the canopy. Poles commonly come in two pieces to allow for easy storage and shipment and are comprised of wood, aluminum or fiberglass. Pole diameters range from 1 3/8 to 2 inches thick. If you live in a windy area you should consider a solid wooden pole no less than 1 1/2 inches thick as this will provide more support.
The Hub
Most patio umbrellas have 2 hubs; the runner hub and the top hub. The runner hub supports the ribs of the umbrella while functioning as a guide sliding up and do on the pole when opening and closing the canopy. The top hub is stationary and holds the ribs into place.
The Ribs
The underlying support the canopy is called the ribs.  This is bone structure to the canopy that spreads and supports the canopy when in the open position. Ribs are commonly made out of wood, aluminum or fiberglass. Fiberglass is the best material for ribs because of its flexibility.
The Finial
The top most piece of a patio umbrella is called the finial. It is as decorative as it functional serving as the anchor piece to the canopy, and the finishing touch to the umbrella.
---
Choosing a Base
What size umbrella base do I need?
After you've picket out the perfect umbrella, you're going to need a base to keep it upright. Make certain that you are satisfied with your umbrella purchase before buying a base because the base weights are determined by umbrella sizes. You don't want to purchase a large umbrella and have it anchored down by an undersized base and run the risk of your umbrella taking flight and planting itself in your neighbor's yard or your living room.

Most umbrella bases are made of iron, concrete, plastic, stone or a combination. Some bases especially offset umbrella bases commonly require water or sand entered into the base for added weight. Plastic and concrete bases tend to be the least costly and commonly require water or sand added which makes for easy storage during the off season. Iron and stone bases tend to be the more elegant by utilizing simple but stylish square and round Iron Gate designs.

If you purchased an offset umbrella you will not need to purchase an umbrella base. Some offset umbrellas come with an umbrella base included while others do not and must be secured to the ground using bolts or weights. Offset umbrellas that do not come with bases have cross mounts on the bottom to allow for the umbrella to be fastened to ground or weighted down using blocks.

If you plan on utilizing you're umbrella through a table take that into consideration as an umbrella thru a table is sturdier than a free standing umbrella thus needing less base weight. The table below is a minimum suggested base size chart. If you live in an area where strong winds are a frequent occurrence you should consider going with the next heavier weight up.  
| | | |
| --- | --- | --- |
| Umbrella Canopy Size (ft) | Utilizing | Minimum Suggested Base Size (lbs) |
| 6 | Thru Table | 30 |
| 6 | Free Standing | 50 |
| 7 | Thru Table | 30 |
| 7 | Free Standing | 50 |
| 7.5 | Thru Table | 30 |
| 7.5 | Free Standing | 50 |
| 8 | Thru Table | 50 |
| 8 | Free Standing | 75 |
| 9 | Thru Table | 50 |
| 9 | Free Standing | 75 |
| 10 | Thru Table | 50 |
| 10 | Free Standing | 75 |
| 11 | Thru Table | 50 |
| 11 | Free Standing | 75 |
Shop Patio Umbrellas >
---