---
What is an Outdoor Lamp?
Everyone knows what a lamp is, so the easy way to explain what an outdoor lamp is would be by explaining the differences between an indoor and outdoor lamp. Below is a list of features that characterize an outdoor lamp:
Transparent plastic protective cover that shields the bulb and socket from outside liquids and debris.
A weighted base to prevent the lamp from toppling over in the wind.
The lamp shade is made from a water and UV resistant material
The cord is longer to accommodate for greater distance to an outlet
UL® (Underwriters Laboratories) tested and approved for damp areas
---
Choosing an Outdoor Lamp
Outdoor Lamps Only is dedicated to helping you find the perfect lighting solution for your outdoor space. Shop confidently knowing that our entire product line is outdoor-ready right out of the box. But we understand that no two outdoor areas are alike, and some of our products may be more suitable than others for your unique purposes.
---
What type of outdoor lamps are best for me?
There are two major factors to consider when purchasing outdoor lamps: functionality and appearance. Outdoor Table and Floor Lamps include lamp shades. The rugged Sunbrella and other outdoor-approved fabrics used in these shades limit the luminescence of their light sources, making them best for lighting intimate spaces, such as a single table or grouping of chairs. It's best to have a general idea of where you are planning on using your outdoor lamp. Of course you are planning on using it outdoors, but a few questions you should keep in mind during your buying process are:
Am I planning on using this lamp on a table top?
How far is the nearest outlet?
Is it a windy area?
Am I planning on leaving this lamp outside all the time?
---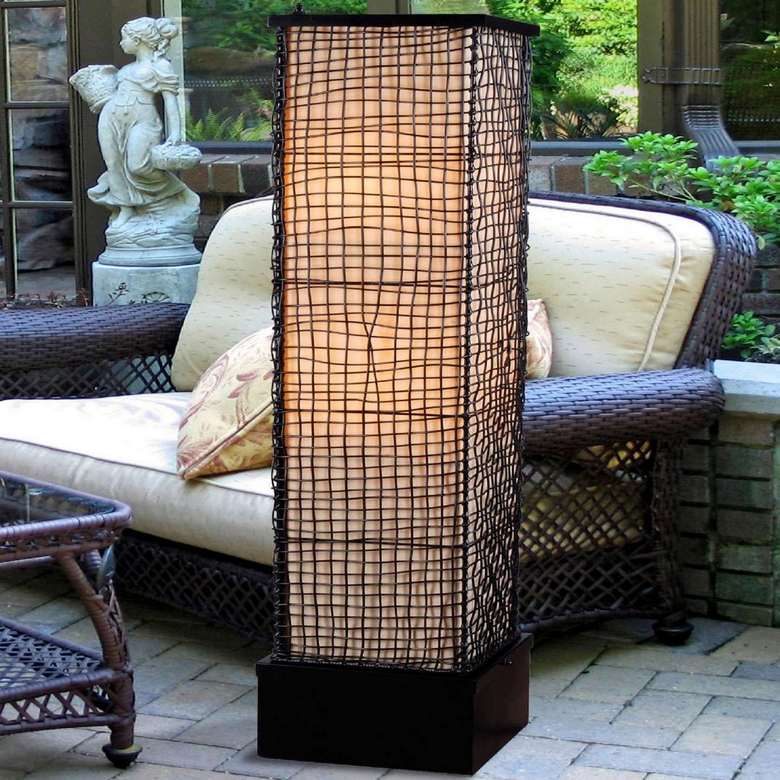 The term Outdoor Floor Lamp means that the lamp is designed to be used on the floor. Floor Lamps are usually at least 40 inches high and have weighted bases to keep them from toppling over in the wind. They have a great aesthetic look and provide a great backyard ambiance.
---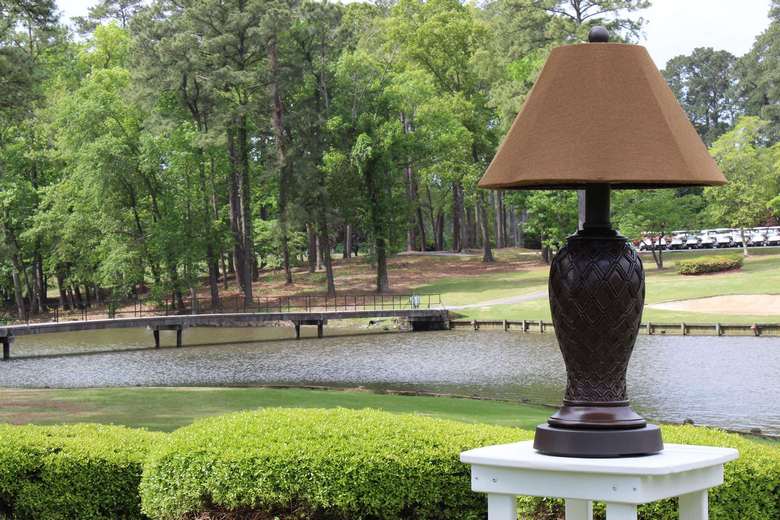 The term Outdoor Table Lamp refers to a lamp that is designed to be used on a table top or some supporting surface. Table Lamps tend to be around 30 inches tall or smaller and, to be effective they need to be placed higher. Like floor lamps, table lamps are also designed with weighted base to keep them from toppling. This style lamp can add the perfect luminesces to your bistro table or end table.
For greater, further-reaching luminescence, the best options are outdoor lamp posts and torches, which are unshaded and therefore capable of lighting an entire patio, porch, or comparable outdoor space.
---
| Size of the area to illuminate? | Lamp Type |
| --- | --- |
| 4-Person Table, 2 Chairs with Coffee Table | One Outdoor Table or Floor Lamp |
| 6-Person Table or Larger, 3 or more Chairs with Coffee Tables | Two or More Outdoor Table or Floor Lamps |
| An Entire Patio, Porch or Comparable Outdoor Space | One or More Outdoor Lamp Posts or Citronella Torches |
---
Most of our lamps require only standard 60-watt or 100-watt incandescent or LED bulbs. Please refer to product manuals and our online spec sheets to determine the maximum wattage for your product. These lamps feature protective covering to keep the standard bulbs protected from the elements. Compare their luminescence with that of standard household lamp. Remember that the LED bulb, while not included, is the best option for maximum luminescence, with a greater lumens to watt ratio than any other type of bulb.
Our Outdoor Lamp Posts and Outdoor Torches provide perhaps the greatest luminescence. Some feature multiple light sources, and the lack of shades ensures maximum brightness. Lamp Posts and Torches are the best option for efficiently lighting a large outdoor space.
---
Base Options for Outdoor Lighting
All freestanding outdoor lamps feature weighted bases of at least 10 pounds or heavier. Most table lamps will weigh 10-15 lbs. total, floor lamps, 20-30 lbs., and lamp posts, 30-40+ lbs. There are some lamps that give you the option to add weight to the base of the lamp for added stability.
No amount of weight, however, can account for severe weather conditions. Be prepared to store your outdoor lamps inside or in a covered outdoor storage area in the event of inclement weather.
For consistently windy conditions where even weighted freestanding bases could be a concern, we offer lamps that can be mounted into the umbrella holes of outdoor tables, as well as pole torches that can be anchored in soil or concrete.
---
How important is the frame material of an outdoor lamp?
Generally, this is about achieving the desired look -- all outdoor lamp frames feature unparalleled durability. Choose the lamp with a finish that is visually appealing to you and meshes with existing decor. Most lamp poles and frames are composed of resin, a synthetic polyurethane-based material that is resistant to bending or breaking and is virtually waterproof.
---
What Shade material do I need?
All lamp shades from Outdoor Lamps Only are 100% outdoor safe. Our finest material is Sunbrella, the premier outdoor fabric on today's market. But our other outdoor shade fabrics are also highly durable and weather-resistant.
---
100% Solution-dyed acrylic fabric that will withstand sun, wind, rain and mildew
Water-repellant finish (hinders the penetration of water)
Tested to provide 98% protection from the sun's harmful UV rays
Acclaimed as the foremost provider of outdoor fabric
3 Year warranty against fading
Great for commercial or frequent use
The same great look as Wicker Wood
100% Waterproof hardened plastic
Will withstand years in the sunlight without fading
Resistant to wind, rain and mildew
Great for commercial or frequent use
Resists rust and UV fading
Built specifically for our heat lamps
Great for commercial or frequent use
Has a great aesthetic look with a beautiful finish
Water-repellant finish (hinders the penetration of water)
Great for commercial or frequent use
A great economical alternative to the higher price acrylic fabric
UV resistant from fading
Plastic Weave
The same great look as Wicker Wood
100% Waterproof plastic
Will withstand years in the sunlight without fading
Resistant to wind, rain and mildew
Our other outdoor fabrics are generally comparable to Sunbrella in quality and all-weather durability, but you may prefer to trust the name, recognition and quality of an established fabric manufacturer.
---
What are the components of the Outdoor Lamp?
Base: The bottom most piece of the lamp and is weighted for stability
Shade: Used to screen the bulb from direct view. The materials are listed above.
Power Cord: Up to 15 feet in length, constructed for outdoor readiness. Most of our models are UL Approved
Frame: Generally constructed of polyurethane or aluminum; all-weather and extremely durable
Bulb Socket: Opening for the bulb which is protected by the Dome
Dome: Casing provides weather protection. Rain/Moisture is kept from the entry point.
---